In This Ground by Beth Castrodale
In This Ground by Beth Castrodale
The lowdown from Goodreads
Publication Date September 18, 2018
Just as his indie-rock band was poised to make it big, Ben Dirjery traded it all in for fatherhood and the stability of a job at Bolster Hill Cemetery. Now closing in on fifty, the former guitarist finds himself divorced and at loose ends, and still haunted by the tragic death of his former band's lead singer, who is buried, literally, under Ben's feet. Then Ben's daughter begins questioning a past he has tried to bury. If he can face her questions, he might finally put to rest his guilt over his bandmate's death, and bring music back into his life.
In This Ground by Beth Castrodale
We are thrilled to be a part of TLC Book Tours to highlight In This Ground by Beth Castrodale. This book is filled with a cast of lovely characters. The plot centers around family, music & life's choices. I can't help but adore this novel.
Special thanks to TLC Book Tours & Garland Press for providing our copy in exchange for an honest & fair review.
Let's connect with books! We have all of our reviews on Goodreads!
Read more of Kim's reviews here!
Really Into This a participant in the Amazon Services LLC Associates Program, an affiliate advertising program designed to provide a means for us to earn fees by linking to Amazon.com and affiliated sites.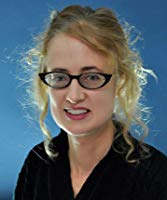 Beth Castrodale has worked as a newspaper reporter and editor. Her novels include Marion Hatley, a finalist for a Nilsen Prize for a First Novel from Southeast Missouri State University Press (published by Garland Press in 2017), and In This Ground (Garland Press, 2018). Beth's stories have appeared in such journals as Printer's Devil Review, The Writing Disorder, and the Mulberry Fork Review. Get a free copy of her novel Gold River when you sign up for her e-newsletter, at http://www.bethcastrodale.com/gold-river/.