The heartbreaking, yet hopeful, story of a mother and daughter struggling to be a family without the one person who holds them together—a perfect summer read for fans of JoJo Moyes and Marisa de los Santos. Alexis Gold knows how to put the "work" in working mom. It's the "mom" part that she's been struggling with lately. Since opening her own advertising agency three years ago, Alexis has all but given up on finding a…
You and Me and Us by Alison Hammer
Alexis Gold is a workaholic. Her husband, Tommy, has been the supportive partner and father – the glue of the family – ever since Alexis started her own advertising agency. But when Tommy is diagnosed with terminal lung cancer, their world is forever altered.
Reprioritizing
Alexis has worked crazy hours since forever. Determined to show she and her business partner, Becky, can be the best in a male-dominated industry. She's sacrificed (missed) ballet recitals, birthdays, and fundraisers. So, it's no wonder Tommy is the favorite parent.
Tommy is practically perfect. Smart and funny and always there when his girls need him. He does everything for their teenage daughter, CeCe. But, when he's diagnosed with terminal cancer, he puts himself first. Having grown up in Destin, Florida, he wants to spend his final months by the beach.
But, will Alexis be able to put work down? And what about CeCe? She's an aspiring actress with her heart set on attending drama camp this summer.
Bucket List
Being forced to confront death brings a wave of emotions for most of us. Tommy is clear he doesn't want to fight cancer. He picks quality time over quantity. It is this attitude that creates a simultaneously playful and heartbreaking backdrop to You and Me and Us.
While Alexis and CeCe struggle to imagine a life without their rock, Tommy savors his last bits of energy. They watch movies he picks out, go to the beach, he teaches CeCe to drive.
THE VERDICT
I am really into this book. Reading about cancer and end-of-life isn't your typical beach read, but You and Me and Us will keep you turning the pages. Hammer captures the raw emotion of grappling with  death and a new reality. We see that from shattered hearts can come strength of character. As her debut novel, Hammer has won me over as a fan. I can't wait for her next book!
Let's connect over books! Let's be friends on Goodreads. You can check out more of Bianca's reviews here.
More Info About You and Me and Us by Alison Hammer

Purchase Links for You and Me and Us by Alison Hammer
About Alison Hammer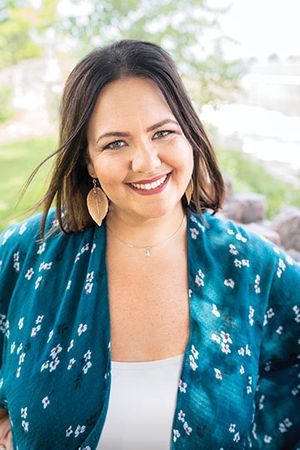 Founder of the Every Damn Day Writers, Alison Hammer has been spinning words to tell stories since she learned how to talk. A graduate of the University of Florida and the Creative Circus in Atlanta, she lived in nine cities before settling down in Chicago, where she works as a VP creative director at an advertising agency. You & Me & Us is her first novel.