Cosmic Queries by Neil deGrasse Tyson
Get yourself a copy of Cosmic Queries because it is so enjoyable, important, and educational.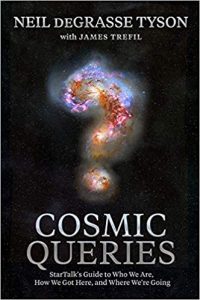 About Cosmic Queries by Neil deGrasse Tyson
• Publisher: National Geographic (March 2, 2021)
• Hardcover: 312 Pages
In this thought-provoking follow-up to his acclaimed StarTalk book, uber astrophysicist Neil deGrasse Tyson tackles the world's most important philosophical questions about the universe with wit, wisdom, and cutting-edge science.
For science geeks, space and physics nerds, and all who want to understand their place in the universe, this enlightening new book from Neil deGrasse Tyson offers a unique take on the mysteries and curiosities of the cosmos, building on rich material from his beloved StarTalk podcast.
In these illuminating pages, illustrated with dazzling photos and revealing graphics, Tyson and co-author James Trefil, a renowned physicist and science popularizer, take on the big questions that humanity has been posing for millennia–How did life begin? What is our place in the universe? Are we alone?–and provide answers based on the most current data, observations, and theories.
Populated with paradigm-shifting discoveries that help explain the building blocks of astrophysics, this relatable and entertaining book will engage and inspire readers of all ages, bring sophisticated concepts within reach, and offer a window into the complexities of the cosmos.
For all who loved National Geographic's StarTalk with Neil deGrasse Tyson, Cosmos: Possible Worlds, and Space Atlas, this new book will take them on more journeys into the wonders of the universe and beyond.
Book Review Cosmic Queries by Neil deGrasse Tyson
Content warning for discussions of anxiety (from me, not the book)
Neil deGrasse Tyson hosts StarTalk & here is some real talk from me. I freaking love this book. Lately, my anxiety has been through the roof. During a particularly bad weekend, this book arrived. As I began to flip through the pages, the photos are gorgeous, the text and information are easy to follow & I found myself reading, thinking, and contemplating.
Cosmic Queries by Neil deGrasse Tyson poses some really deep questions. What if the gravitational pull of this universe was different? Are other universes trying to reach us? Is our universe really just a snowglobe sitting on the mantle of an alien?
Reading and thinking about all of these questions really gets my mind going. Neil has an incredible way of helping us learn and understand more about our world, our universe, how it works and highlights all the things we still don't know. For me, learning more about our world, how & why it works helps my anxiety. Get yourself a copy of Cosmic Queries because it is so enjoyable, important, and educational.
You can find all of my reviews on Goodreads.

Purchase Links
About Neil DeGrasse Tyson
Legendary astrophysicist NEIL DEGRASSE TYSON is the host of the popular podcast StarTalk Radio and Emmy award-winning National Geographic Channel shows StarTalk and Cosmos. He earned his BA in physics from Harvard and his Ph.D. in astrophysics from Columbia. The author of more than a dozen books, including the best-selling Astrophysics for People in a Hurry, Tyson is the first Frederick P. Rose Director of the Hayden Planetarium. He lives in New York City with his wife and two children.