#Girlboss The Book & Netflix
#Girlboss The Book & Netflix
Publication Date May, 6th 2014
The lowdown from Goodreads
At seventeen, Sophia Amoruso decided to forgo continuing education to pursue a life of hitchhiking, dumpster diving, and petty thievery. Now, at twenty-nine, she is the Founder, CEO, and Creative Director of Nasty Gal, a $100+ million e-tailer that draws A-list publicity and rabid fans for its leading-edge fashion and provocative online persona. Her story is extraordinary—and only part of the appeal of #GIRLBOSS.
This aspirational book doesn't patronize young women the way many business experts do. Amoruso shows readers how to channel their passion and hard work, while keeping their insecurities from getting in the way. She offers straight talk about making your voice heard and doing meaningful work. She's proof that you can be a huge success without giving up your spirit of adventure or distinctive style. As she writes, "I have three pieces of advice I want you to remember: Don't ever grow up. Don't become a bore. Don't let The Man get to you. OK? Cool. Then let's do this."
#Girlboss The Book & Netflix
I'm a Girlboss, you're a Girlboss & he's a Girlboss.
Sarah:  I read this book by Sophia Amoruso when it first came out in 2014 & I was Really Into it. Sometimes books hit me at the right time & I needed a boost of confidence as well as a swift kick in the ass. #Girlboss provided both.
Jessica: I literally finished the Audiobook TODAY. Just in time for the premiere of the show!  It is very inspirational in that she reinforces what you can do for yourself with hard work and passion.  We're about to #Girlboss this blog!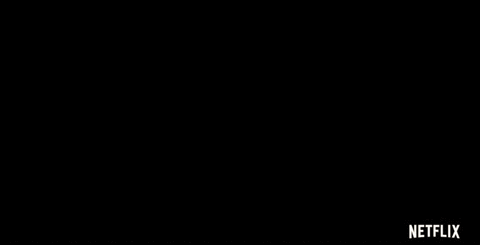 Sarah: Hell yes we are!
Jessica: I really did enjoy the book, and I blew through the audio version in just a couple of days.  It was interesting to read (listen) having the knowledge that her business, Nasty Gal, had filed for bankruptcy and she had stepped down.  Of course, I had this information in the back of my brain, but I don't think it made the book any less inspiring.  It doesn't change her hard work and it doesn't mean that you can't #Girlboss your way through life.
Sarah: Well, yeah. The bankruptcy situation is a total bummer, but let's see how the #Girlboss rises from the ashes. She built a successful business so young made mistakes & I'm sure she learned from them. I'm excited to see what she will do next. I mean, she's got her website still, & I'm going to give the #Girlboss Podcast a try soon.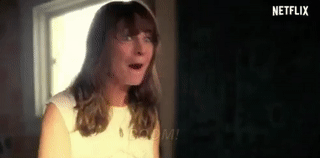 Jessica:  I was disappointed that Sophia didn't read the Audiobook herself.  I wanted to hear it in her voice!
Sarah: Yes! That always aggravates the hell out of me. It's like, "What the hell are you so busy doing that you can't read your OWN BOOK?" As a reader, I buy into the book a little less if it's non-fiction & not read by the author. If Aziz, Tina & Amy find the time to do it, then I accept no excuses.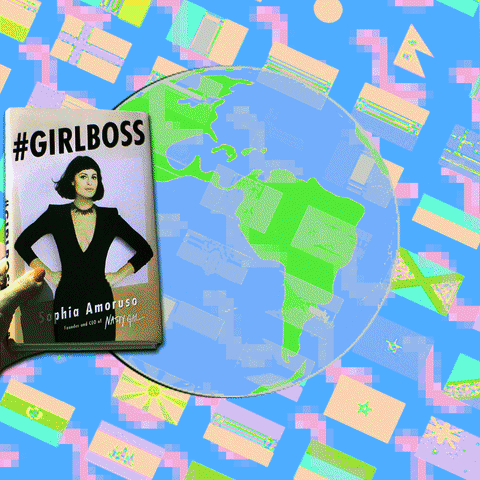 Jessica: It will be interesting to see this translated to the TV.  I have high expectations for fabulous clothes.  I also have a lot of respect for Charlize Theron – she rarely picks a bad project, so the fact that she chose to produce this gives me confidence in the outcome.
Sarah: YES! One of the reviews said it was like the heyday of 1995 fashion & the apex of internet shopping. I'm expecting Britt to be a tough, take no nonsense type of girl, a little dirty (looks like she may have body odor), dusty hands from applying all those packing labels just right & from sorting through estate sales. I wish I didn't work tomorrow because it hits Netflix at midnight. But, I gotta go to work. Got to #Girlboss it out!
THE VERDICT
We are both Into This book, Sarah more than Jessica!
Sarah: just finished the First Season of #Girlboss & I loved it so much. Britt did a great job as Sophia & her character was so complex. She's damaged, hard-headed, incredibly determined (almost to a fault) & can be a shitty friend. Britt & Ellie has so much fantastic best friend chemistry. Also, I loved EVERYTHING Ellie wore. Melanie Lynskey was such a great addition to the series & I loved the way they did the E-bay threads on film.
UPDATE: This show was not renewed for a second season- bummer. If you're looking for another great Netflix binge, check out Master of None.
Let's connect with books!  We have all of our reviews on Goodreads!
Really Into This a participant in the Amazon Services LLC Associates Program, an affiliate advertising program designed to provide a means for us to earn fees by linking to Amazon.com and affiliated sites.
About the Author: Sophia Amoruso
As founder and executive chairman of Nasty Gal, Sophia Amoruso is the creative visionary, modern-day entrepreneur and fashion doyenne who has forged an unprecedented path in building a brand. Named by Forbes as "Fashion's New Phenom" as well as being featured on the cover of their June 2016 SELF MADE WOMEN issue, Amoruso has become one of the most prominent figures in retail and a cultural icon.
Amoruso released the paperback edition of her New York Times 18-week best-seller #GIRLBOSS on September 29th, 2015. Originally released in hardcover under the Portfolio and Putnam imprints of Penguin Random House, #GIRLBOSS is part memoir and part business book with an edge. Offering insights on entrepreneurship and career advice, #GIRLBOSS is a sassy and irreverent look into how Amoruso organically grew her business from the ground up. It was recently announced that Amoruso has teamed up with Charlize Theron to Executive Produce the Netflix scripted comedy series, "Girlboss," written by Kay Cannon. The series is currently in production in Los Angeles with actress Britt Robertson starring as Sophia. "Girlboss" is expected to premiere on Netflix in early 2017.